All assisted living communities want occupancy rates that meet or, better yet, exceed their owners' expectations. It's a given. In a perfect world, achieving it should not be that much of a struggle — but, of course, that's far from the reality most communities are facing. Indeed, why should it be if homes for the elderly are almost always established with high-minded and sympathetic goals in mind?
Sure, it's still a business that has to prioritize profit, but not a lot of enterprises can fully claim that they are rendering direct, useful aid to people. And that's definitely just one compelling motivation managers and owners of assisted living communities should use to overcome the occupancy issues that they encounter. In the end, you can't beat the satisfaction of knowing you are easing the burden of others.
Yes, there are challenges, especially in these trying times. So let's tackle them! Chances are, you simply have to know where to look for inspiration.
In fact, you're in luck for we've done it all for you. We have compiled the best steps assisted living community owners should take to finally enjoy the occupancy rates they've been aiming for, even and especially in the wake of a pandemic.
Address the Lingering Shadow Cast by COVID-19
COVID-19's perceived crippling effects on the senior care industry are only skin-deep. Now before you refute this statement with data that shows your senior care facility's occupancy dwindling, we are going to admit that, yes, it has a lingering impact. But a downward trend is not exactly the case for everyone. And this is only proven by eldercare franchises that are actually booming even during this pandemic. 
Want proof? Just look at the BrightStar franchise. What's their secret? They take every precaution available and listen to their residents' requests related to COVID-19. In short, they took the necessary steps to allay the entire community's (caregivers included) fears. 
From stringent PPE-wearing guidelines and regular COVID-19 tests to adopting a smaller format in the number of rooms and deliberately limiting the number of residents they take in, their facilities adapted to the immediate safety demands of their residents. 
Once you decide to do these fixes, you have to exert equal effort in highlighting the improvements you have done to your prospective residents. More importantly, you and your caregivers have to believe 100% in your community's ability to safely handle its residents. Think about it, how can you expect to convince anyone to avail of a product or service if you yourself don't have faith in it?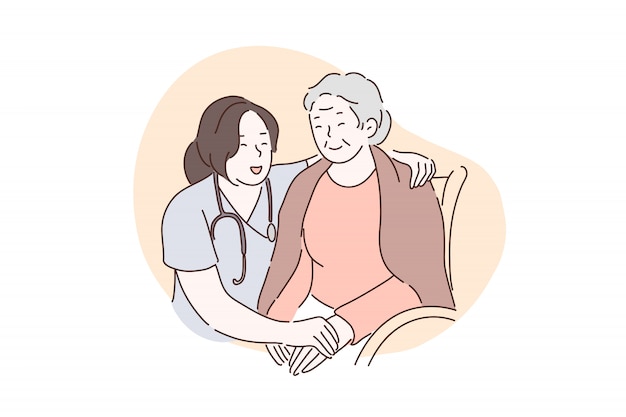 Technology Is Here to Help — Embrace It
Technology gives you unprecedented leeway to discover new opportunities to improve your facility. We're not just talking about marginal changes here. If you want to see the game-changing impacts of technology on eldercare facilities, you have to look at what assisted living software brings to the table.
They not only aid your staff directly in optimizing their schedules and providing timely care to patients, but they can also be utilized to directly and effectively engage the entire community. 
Digital signages, for example, can help relay information throughout the facility faster. But they don't stop there — they can be used to entertain everyone, after all, with scheduled activities like facility-wide games, quizzes, workouts, and other forms of entertainment. 
Other forms of telehealth, tele-wellness, and video collaboration software fall under this umbrella, too, and almost all are designed to overcome a specific hurdle. Weigh their benefits and disadvantages when implemented in your particular community.
Assisted living software also reinforces internal communication. In short, it basically keeps your entire facility connected and equipped to tackle the most relevant problems of the day. 
Assisted Living Doesn't Mean It Should Be All About Assisting
Make no mistake, assisting elders will and should remain any senior care community's priority. But what use is there for "living" without experiencing a bit — or, even better, loads — of fun every once in a while? 
This is why maintaining the quality of life of residents never be overlooked as well. In fact, it could mean the difference between convincing the senior's family whether your facility is the best home for him or not. 
Of course, the challenge here is finding a common ground with regards to fun for your residents. Perhaps, many of them are fans of rock and roll? Maybe you can make its music a prevailing theme in the events you plan. 
You also don't need to look further than what technology has to offer on this topic. The trick is to find out what makes your residents and caregivers tick. And once your community immediately broadcasts and radiates that aura of fun, that's one qualm crossed off the list. 
Out with "Facility", In with "Home"
Without question, depression and other mental health issues often plague senior care residents. And with the added toll of required isolation due to the pandemic, this only adds further burden on caregivers and residents both. 
You might be using technology to the fullest, but have you ever considered the possibility that its high-tech aspect might be too institutional or even a bit dehumanizing? Also, the very notion of staying in a "facility" could inspire in some seniors a feeling of being regimented that only worsens the said feeling of isolation. 
This is why there's no better time to foster an environment that is as close to feeling homelike as possible for your residents than now. A lot of this hinges on interior design decisions. Even the fundamentals like the colors you choose and areas where sunlight is abundant should be considered — and that's just the tip of the iceberg. 
You can even encourage collaboration among residents with how and where you position the residents' myriad means of entertainment. Perhaps, it's high time for a little A/B testing?
Champion a Staff Culture Focused on Compassion, Independence, and Purpose
We are going to have to assert the word "independence" here. Because one of the most overlooked issues that assisted living communities encounter but aren't frequently brought to the spotlight involves the micromanagement of staff. Oftentimes, such stances only take a worse toll on staff, regardless of whether they are long-time caregivers in your facility or only just now expressing interest in working for you. 
It's never ideal to dictate caregivers all the time. Can they ever nourish a genuine feeling of wanting to help their wards if you are constantly hovering over them, telling them what to do? What's worse is that it ends up becoming your community's default culture. 
Instead, you should aim to empower and encourage them, like any proper leader, to be purpose-driven, compassionate, and independent. Only then can they derive satisfaction from being able to wholeheartedly respond to the needs of the seniors under their care. In the process, it nurtures staff loyalty. 
And with a loyal, highly motivated staff, you can only expect residents to warm up to your community easier. A lot of senior care homes can attest to this. 
With Everything Set, Get the Ads Rolling
With your facility set up and ready to tackle the most pressing challenges it has to face, only then should you be aggressive in promoting it. And one excellent avenue you should not overlook are PPC campaigns. 
Almost all inquiries related to assisted living facilities prospects are done via online searches. What makes PPC senior living ads powerful is that they gain top priority in organic search listings. They can also be seamlessly optimized for advanced targeting based on age, location, and target keywords. 
Here are but some tips to launch cost-effective and efficient PPC campaigns:
Create separate targeted ad campaigns for every stage of your funnel.

Every searcher has a different intent, after all. If they are still looking to build brand awareness, then you can concentrate on promoting what your facility has to offer first via your messaging. You could even offer them a free ebook that gives insights and tips about assisted living. You should also consider the possibility that it's often always the child of the senior that conducts these searches, especially when deciding what to promote. 

Always keep track of results and perform a thorough analysis of them.

Paid search campaigns only give the best ROI if you take the time to track and analyze them. Google Analytics makes this easy enough because you can gain an overview of how each ad group is performing. With proper analysis, you can make sounder and wiser decisions that only improve conversion rates and make sure that your resources are utilized to the fullest.  
Conclusion
The times certainly call for great changes in the senior care industry. And senior care facility owners have no better route to take than to answer it if boosting occupancy rates is their top priority at present. What's good is that these steps leave plenty of room for adding twists of your own. That said, your creativity and openness to new ideas play no less than pivotal roles in this regard.